Let's start by going back, to the beginning of your carrier, in the 70s, when you left California and went to Paris to study architecture.
I actually left Los Angeles and moved to New York City first, I didn't go to Paris. In retrospect, looking back, it was a great decision and in the right time! And it was not an easy one, as I was just a teenager then... You see, the early 70's was a sort of golden age for arts in New York City, so much was happening; the full bloom of all pop artists was happening, all the creative people were here... It was the perfect moment for every artist to be in New York City. The whole Paris story did not happen until afterwards.
Why did you choose to go to Paris, since New York was in such a bloom?
That story is a mistaken story, but journalists move stories around to make them look more interesting. They said I studied architecture in Paris. Well... I stared and looked at the buildings! I studied the buildings! I studied architecture! It's the same thing like I apprenticed with Man Ray... I went to Italy, I hung out 3 days with Man Ray at his birthday party and I learned a lot during these 3 days about photography. It turned out (The story) I apprenticed with Man Ray. I try to set the record straight on some things but people tend to believe what they want to believe!
So, basically, Man Ray inspired you to start with photography?
I was doing photography before, Man Ray gave me the incentive to stick with it and stay with it. One of the people who really encouraged me the most was the co-founder of Rolling Stone magazine, Jann Wenner. At the very front of Rolling Stone magazine they used to have a kind of an art page or photography page and I had been published or Jann had published a few of my very first pictures there. That encouraged me! It made me think "oh, what I do is valuable" and "what I'm doing is ok"... cause somebody from Rolling Stone magazine picked me! You see, when we are young the slightest amount of encouragement makes everything possible! When we are young we believe everything is going to work out and at the end it kind of always does, but as we get older we tend to forget all about that!
What did Man Ray say to you? What did you learn from him?
What I did learn from him is obey my instincts and entrust my intuition; in other words, at that time - and this is before digital photography so you would take pictures and make contact sheets - I remember him telling me "when you are looking at your contact sheets, like the image you respond to, trust your instincts and don't ever edit your responses". You see, artists trust their instincts more than everybody else... When you work for the corporate world or you do stuff for an ad campaign you must put aside your personal feelings for the goal of making it to please the people that you are working for. I was able to take that advice and use it throughout my carrier. Those two pivotal things, first working with Rolling Stone magazine and then the talk about motivation on how to deal with my own photography and trust my instincts and my first impressions, was because of Man Ray.
You see, when we are young the slightest amount of encouragement makes everything possible!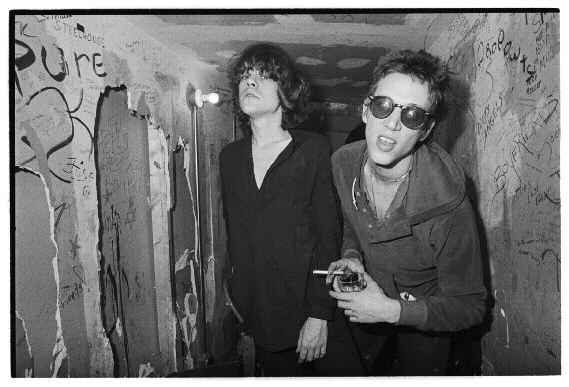 Andy Warhol was a leading figure in the visual art movement as well, how did that occur? Did you seek him out or did he see something in you and tried to find you?
A good friend of mine, the writer Dawson Raider - good friend of Tennessee Williams as well - introduced me to Andy Warhol in an opening at the Witney Museum. I barely knew who Andy was, I mean I knew who he was but I thought he had died when he was shot from Valerie Solanas. I was just a kid from Southern California, what did I know? So, he said "why don't you come to the Factory and hang out"…no, he said "come to Max's, Max's Kansas City"... I was too timid and not secure of myself to go hang out with all the other Warhol Factory people. I don't think I was secure enough to do that, as I always have been a person that was much more one on one, so I did not accept the invitation. When I was having my first exhibition in 1976, called "Step on it", I took all my photos in Soho, on 174 Broome Str. I took all the photos and put them on the floor and then covered the floor with plexi glass. There was nothing on the walls so that manipulated the viewer. Viewers are always used to look in one way and I wanted them to use their eyes in many different ways, to see in different directions. I thought this was a kind of "POP" way to present my photographs and I thought it was a great moment to invite Warhol. It turned out that he could not come, but he sent Bob Colacello, which was even better, because Bob was the editor of Interview magazine at the time. He did come and he liked what I was doing, so he said "why don't you come to the Factory?" And I did go to 860 Broadway, where the Factory was at the time and that's how I met Andy again and we became friends. I started working with him, travelling with him and that's how my 'Warhol life' began.
...and I did go to 860 Broadway, where the Factory was at the time and that's how I met Andy again and we became friends. I started working with him, travelling with him and that's how my "Warhol life" began.
How did you influence Warhol's work?
So many of Andy's famous pictures, like the Elvis Presley or car crash series or Marilyn Monroe were photographs that were procreated, pictures that he took and then he made silk screens and did stuff with them. So, he was very excited meeting me - meeting a photographer - because we got along well and it was a new way to start doing stuff.
Did Warhol ever tell you what he saw in you that made him trust your judgement in matters of art? Since you where the one who actually introduced him to Jean-Michel Basquiat and Keith Haring's work.
Andy thought I had a lot of energy! I was a quiet white blond boy from Southern California and he was a gay man, so that was the perfect combination. He was then in his 40's, so it was good to hang around with a boy like me from Southern California that could also be his photographic guru.
Was he an interesting personality for you as well? How was your collaboration?
Absolutely... It was a perfect set up! He was a successful pop artist and he showed attention to who I was, so it was a great branding for both of us. He very much looked around his peripheral vision to see people and things, from where he could be inspired, how he could learn things; he was a very curious man. You see, if you're curious it makes you interesting, it makes you vital, it makes you valuable. So our relationship and what we did together was absolutely perfect.
You've captured a range of interesting people with your camera... Who would you say influenced you the most and in which way?
I think I influenced myself, because you know I'm very proactive in what I do, unlike Mapplethorpe who had Sam Wagstaff influenced him. Sam Wagstaff was sort of a guru, Mapplethorpe was a very sexually active person. I think Sam Wagstaff probably directed him into the "Flower" series, I'm not really sure. I didn't have somebody directing me in that way.
I think I influenced myself...
You know, although some people may be beautiful on the outside, if there is nothing inside I'm not that interested in photographing them!
Have you ever been directed?
The first time, I guess, I was really directed was when Andy and I did our series called "Altered image", a series of pictures where Warhol is wearing five different wigs. We referred to them as "Altered image" because it's altering somebody's image. Holsten, the dress designer, asked if we wanted to borough a dress, he said "no". Andy is wearing tie and jeans, he is not dressed as a woman. It's sort of a way as Cindy Sherman plays with identity; it's the way I play with identity. You know, I work with Paul Solberg as the Hilton Brothers and we do things, like we make ten or fifteen suits in China coupled with the work of Paul Solberg and myself and we then appear in our openings wearing the same suits, because it throws people off when they see people doing that. That's an idea in playing with identity. So that's what that series is about.
Which person would you like to capture with your camera that you have never had the chance to?
Artists like Francis Bacon. Artists are so interesting, they are so emotionally complicated… There are some artists I miss getting, I'm trying to clear my travel schedule to do some of that still. As far as personalities, I can't think of people that I feel I would miss out on getting… I have made famous pictures of Elisabeth Taylor on a motor cycle, that picture went for 33 thousand dollars in a big auction in Italy! And it is so cool, because it is so unexpected! A woman, who has been a movie star since she was 13 years old, and here she is in jeans, sitting on a motorcycle in Short Hills, New jersey, along with Malcolm Forbs, one of the big capitalists in the United States. So, my friendship with Malcolm Forbs is very important and getting to know and do pictures of Elizabeth Taylor is also very important and spectacular for me.
How difficult was to capture and reproduce the personality of these 'giants'?
People like actors and actresses always need a really good director, so it doesn't matter how big the actor is if you are a strong director and you are sure you can direct that person, in this case, Elisabeth Taylor. You can direct her into dialog, into posing in the position that will make her comfortable, as actors become comfortable when you give them a script. So, when I realized that I needed to give Elizabeth Taylor a script what to do and how to do it, I did, and she was really good at it. If one looks back at Elizabeth Taylor's life he realizes that she always was surrounded by very strong men, she was married to Richard Burton after all! As long as there was a strong man in front of her or around her and knew how to treat her, he could get a response on everything he wanted, in my case, these pictures. It's interesting, because I have another picture that people haven't seen that much. The black and white picture that you are running in the magazine is a sporty picture, but I also have a formal picture of her in Chateau de Balleroy, which is Malcolm Forbs French residence and he used to have a party there every year. So, I have a very different portrait of her sitting on a sofa there.
So, is it a matter of direction in able to capture a very good picture? How do you pick and work with your subjects?
I don't want to say that it's manipulation, it's control. You must have some kind of control. If you go to a photo shoot hoping for the best and see what's going to happen, most of the time nothing will happen… When I'm picking my subjects or when we are deciding on who I'm going to photograph or what's going to happen, I'm very careful about it, especially in the case of famous people whether it's Elisabeth Taylor or Andy Warhol or Lisa Minnelli or some of the other people I've photographed. When I'm picking regular people, like a handsome young man or a beautiful young lady, we always must have something like an interview session first, because I like to talk to the people to see who they are. You know, although some people may be beautiful on the outside if there is nothing inside I'm not that interested in photographing them! I can find people that have inner and exterior beauty as well, and very often I rather photograph people that have character than are just physically beautiful.
Andy Warhol has called you 'the most modern photographer in America'. In your opinion why do you think he made this statement?
Modern photography is about understanding the moment and the present, carpe diem... So if you like to be relevant you have to understand what's going on at the moment! I think Warhol was referring to the idea that I was very contemporary at that moment, because I always had my eyes wide open and I always questioned what was going on and what was around me. He had that same energy and that same sort of joie de vivre. I often remind people that one of the reasons Warhol is so important in today's world and was also important at that time is because, some other painters, just before Andy, looked towards Europe for references of who they are, while all of Warhol's images are quintessential American. The car crash, Marilyn Monroe, Elvis Presley, everything that Andy did was quintessentially American. He was one of the first artists to look to America and to be inspired of American things. That's why he is still so popular and that's why everyone in the world knows him. His work is not about anything that was inspired by Europe, it was inspired only by American things. I'm that kind of a person too, I'm as American as you can get! I grew up in Lowell, Massachusetts until I was 12. When I was 13 we moved to Los Angeles, a cool city at that time. And then in the 60's it was known for the Beach Boys, surfing, Timothy Leary, all of that... So, I grew up in that period, and then I came to New York City when it was the golden age of the arts. These were all quintessential American movements: the surfing, the Beach Boys, New York, Andy Warhol, Bob Rauschenberg, Roy Lichtenstein, all were American things and I was a young American photographer in the middle of all this. I have been very lucky, I have been very privileged! This was my university. I didn't go to college. I was not stuck with a seventy thousand or a hundred thousand college bill. I was able to go to university this way and I am so blessed and lucky to have had this education. That's one of the reasons I was so happy that I recently came to Greece and I rediscovered my Greekeness; it was so thrilling! I gave a lecture at Megaron - The Athens Concert Hall, a talk about my Greekness and growing up not understand really what that is, because I always felt so American, but, oh, this trip to Greece... Thank's to the people who invited me, George Frowick (nephew to Roy Halston & Cultural Attache for the American Embassy in Greece), his wife Maria Dawkinson and Dimitri Chris (founder of "Tuvunu Tea"), to go to Tinos where we spent a week and after that to Hydra, where we spent another week. I felt very Greek again! It was my roots story. It's like a big weather storm washed everything away in my brain and made me come back full of fresh new thoughts and ideas. You know, I'm always looking for galleries in Greece for an exhibition or something.
Another cultural icon you have worked with is Calvin Klein.
In the middle 80's I did several books. I also did a book with Calvin Klein that was called "Exhibitionist", which is about the exploration of masculinity in the 80's. Calvin Klein was such an iconic guy working with Bruce Weber; he changed the way men looked at men and the way women looked at men, with all the underwear campaigns, showing men pretty much naked all the time in full page advertisements. A friend of mine and I were just talking about how men are so much better groomed and so much more self aware on how they look, and that's because of some magazines, like Men's Health and all of these fitness magazines. Women were always that way because they had Cosmopolitan, Vogue... Men never had that, it wasn't part of the culture. Calvin is a great friend of mine, a close friend, and I always say to him "you were one of these incredible cultural icons because you changed culture in America in a big way, you made industries". People think of him as a fashion designer but he changed the way people view each other and that's a big cultural shift. So, back to the original thing, that was the book I did and in that book there are pictures of maleness either naked or not naked, opposite to male imagery, like a cool car, a piece of machinery, remaining masculine things to men and bringing that up in a book. Calvin helped directing that book and he also wrote the introduction.
...the surfing, the Beach Boys, New York, Andy Warhol, Bob Rauschenberg, Roy Lichtenstein, all were American things and I was a young American photographer in the middle of all this. I have been very lucky, I have been very privileged! This was my university.
With your book 'White Trash' you became the pioneer in capturing the emerging punk scene in New York. What made you interested in the punk scene?
What interested me was that this scene emerged and it was an authentic real scene, it wasn't like glam rock, you know what I mean, KISS or this kind of heavy metal groups. Rock and roll was in that moment like "going to change into something", some of these people didn't know what to do, so they put on lipstick and glitter eye lashes. The ultimate, I guess, was David Bowie, "Ziggi Stardust"... That's where they took that idea and made it into something serious. Punk was just happening in the East Village, 15 blocks away from me. It was like an art movement, it was not only a musical thing. It started like a music movement, you know all these people, like Tina Weymouth and David Burn from Talking Heads, the New York Dolls, David Johansen... So, it wasn't a question of me reaching out to them or them reaching out to me, it was just part of something that was curious, you didn't really have to be crazy about music, it was a scene going on! If I wanted to go to a club, why not go to CBGB as it was sort of crazy and interesting and it was in the East Village.
Is it different in New York now?
What has happened to New York City is that the soul is been taken out of it by corporations, and this is something so sad! Capitalism is like Ebola, it's just taking over everywhere! It should not be that way. Money should not rule the world! I remember this quote I read, I think it was from Lennon "Capitalism will collapse on itself". I'm not a socialist or a communist, but I believe that there should be some sort of mix between social responsibility, consumerism and capitalism. The forces of capitalism are winning over social responsibility and that's not a good thing.
Your new book is entitled "Everything: Black And White Monograph". Is this book a reflection on the past? What does this book mean to you?
It's ten years of black and white photography but the way I present it and the way I look at the pictures, I'm presenting the pictures like they are right now. You see, I go through my life taking pictures, I take the pictures and then we put them in folders and we just file them and I continue on with my picture taking. I will seize the moment, take the opportunity and say "ok, I am going to do a book now, let's go search and see what I have to make this book" and then I go and look at the pictures. My life has to be very real to me and honest, so this book is a sort of folder or portfolio. So that's how this book came out and ever since I'm doing everything along with this book.
What else are you doing in combination with your book "Everything"?
I'm working with "Ports 1961", I did a small capsule collection with them and they are taking me all over the world. It's a fashion company and it is doing an exhibition with me, with these famous Andy Warhol pictures ("Altered image" series). They have taken 3 of these images and put them on clothing. It's the idea of art meeting commerce. I'm also doing this thing with Kiehl's cosmetics. They took 17 or 16 baby photographs and they put them on a label. It's so extreme for me, since I never worked with companies. This brand is owned by L'Oreal, they asked me to do a label to celebrate their 15th anniversary. They have asked people like Jeff Koons to work with them, so I'm thrilled! All that was happening in the last year, I knew then the book was coming, so I named it "Everything". So, when I talk to journalists and they ask me what I'm doing, I can tell them "Everything"! All of these 17 or 16 photos that are on the label are also in the book.
Do you prefer black and white to colour?
No, it's just that colour could be very distracting, black and white is much easier on the eyes. I am going to follow up everything with a colour book, which may be called "Strutting" or "Distraction". I'm not really sure. It's what amuses me at the moment, where I am at the moment. I respect the past, I admire the future, but right now the most important is moment.
...just believe in your ideas, believe in what you do, in what you want out of life and it will come to you, making you the happiest person!
If you could go back to time, would you change something? Would you like to do something else or in a different way?
Yes, I would have bought real estate in New York City a long time ago, it was just so cheap then!
Do you have any advice for future artists, something to pass along to future generations?
Yes, it's just what I've been talking about "carpe diem", "seize the moment", "seize the day". Don't be too worried about like "if I'm going to do this in the future", worry about just today. Do what you love to do, don't worry about making money of that, money will come when people see that you love what you are doing. That's how you can make a living or a carrier out of that. If you are doing it for money, go be a banker! Never do things for money, that's the wrong motivation. All of these inventors, whether it's the people from Microsoft or Facebook, they did this stuff because they loved doing it, and finally they became billionaires. That's the wonderful thing about the United States! It's this sort of culture from people all over the world. There are all here, Silicon Valley, out west or here, in the East Coast. They get ideas and they love their ideas. That's the wonderful thing about the free enterprise system. They get ideas, they get excited about these ideas, and their excitement excites people with money. So, there are the people with money who have no ideas and the creative people. That's how it works in our system and so far it works pretty well. There is of course a corrupt side of it, as I discussed earlier... So, just believe in your ideas, believe in what you do, in what you want out of life and it will come to you, making you the happiest person!