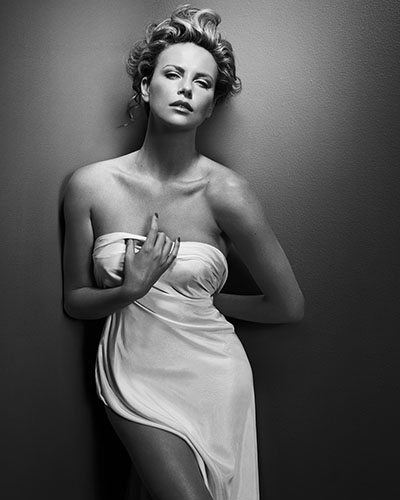 Vincent Peters:

In the Light
A cinematic approach
of fashion photography
By Katerina Xidaki
Light is glamorous
- Vincent Peters
Gallery 206 in Berlin hosts, until January 16, the work of the German fashion photographer Vincent Peters, famous for his large-format, black-and-white portraits of international film stars and models, in an exhibition under the title 'Vincent Peters: In the Light'.
Vincent Peters -who has worked for magazines such as 'Vogue', 'Elle', 'Numéro', 'The Face', 'GQ', 'Esquire', 'Harper's Bazaar' and fashion brands including Dior, Louis Vuitton and Yves Saint Laurent- relies entirely on the classic art of portraiture for his photographs. Peters uses a diffusion filter on his camera that gives an amazing sophisticated lighting in all his photographs. Focusing on small gestures and unpretentious poses, he ensures that his subjects do not disappear into the backdrop. The cinematic, sexy and distinctive style of the German photographer reminds us the Hollywood glamor of the 40s. At the same time, Peter's photographs are a tribute to the great studio photographer George Hurell, one of the most important representatives of Old Hollywood glamor, famous for his 'film noir' style.
Vincent Peters was born in Bremen, Germany, in 1969. He began his career taking pictures while traveling through Thailand in the 1980's. He moved to New York City at the age of twenty to work as a photographer's assistant. Wishing to pursue his own creative vision, he returned to Europe in 1995, where he worked on personal projects and for various art galleries, until 1999 that he began his career as a fashion photographer at Giovanni Testino's agency. Over time Peters created his personal recognizable style and worked with major fashion houses and international magazines.
The exhibition 'In the Light' presents portraits of famous personalities, such as Monica Bellucci, John Malkovich, Cameron Diaz and Charlize Theron.